What to do in September in Vila Praia de Ancora?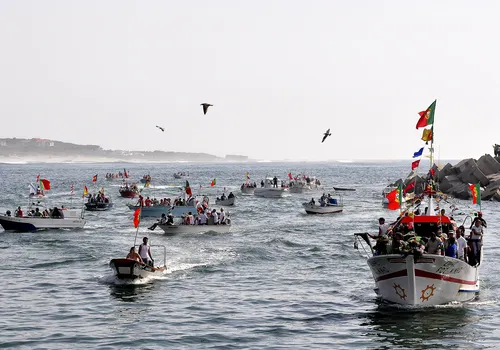 Holidays with fewer lines and less fuss? September is the perfect month for this. Days are still long and pleasant, the sun is still burning, summer is still here and, of course, the rhythm is softer. It is precisely for these reasons that more and more, many people choose to slow down at this time of year. Vila Praia de Ancora is the ideal destination for a holiday in September. Take advantage of our tips on what to do in September in Vila Praia de Ancora.
Plan a getaway and enjoy the beach and the mild temperatures of the town. This month, the long beach will seem even more infinite and spacious because it will not be necessary to measure the space where to put the towel. After a sunny morning, we suggest a walk through the typical restaurants and taverns of the town, where you can enjoy meals at tempting prices, in which fresh fish and shellfish are the protagonists.
If you feel like capturing some pictures, we suggest a walk to Serra d' Arga, where you can take several trails and admire the diversity of fauna and flora. On the other hand, if you prefer a postcard with history, take a walk to the Chapel N. Sra Lurdes and the Calvário viewpoint. Still in this area, be sure to visit the Dólmen da Barrosa (also known as Lapa dos Mouros), a monument more than two thousand years old, considered a National Monument.
For fans of entertainment and culture, between September 7 and 11, the traditional Festival in Honor of Our Lady of Bonança, Patroness of the Seafarers, takes place. It is the main feast of the Vila Praia de ncora community, very much linked to the local fishing class, which brings together not only the fishermen, but also many other people from the municipality and the region. One of the most remarkable moments is the procession to the sea, in which boats head to Forte da Ínsua to collect the image of Nossa Sra da Ínsua. This year, the musical highlights - all free of charge - are Tio Jel, Grupo Maré Viva, Toca a Bombar, Tuna Sénior de Caminha, Augusto Canário & Amigos, and the Zés Preiras Group from Barcelinhos and TOP 5.
Where to Stay?
With a privileged location five minutes walk from the beach, Hotel Meira is the perfect place for a September holiday in Vila Praia de Ancora. This family hotel, with 87 years of history, has several types of rooms fully equipped for your comfort.
Enjoy the Hotel Meira's buffet breakfast, with a wide variety of fresh and seasonal foods, before embarking on an adventure in the typical town of Minho. If you want to relax, find out that at Hotel Meira we have MEIRASPA, which includes a Turkish bath, sauna and massage rooms, where you can take care of your well-being and your body.
You can bring your pet as we are pet-friendly, and if you want to get to know the town by bicycle, Hotel Meira is also cycling-friendly. Book your holiday now, at the best price, at the Hotel Meira, and discover what to do in September in Vila Praia de Ancora.