The best beaches of Caminha
It is often said that Alto Minho is one of the hearts of Portugal. Not only for its heritage and cultural heritage, but also for the region's fauna and flora.
For this reason, the beaches of Caminha offer unique experiences, since they are very close to green environments, rivers, wide mountains, as well as urban and rural trails. These beaches have ample sandy space for playing games with family or friends. Apart from their natural beauty, these beaches are rich in iodine.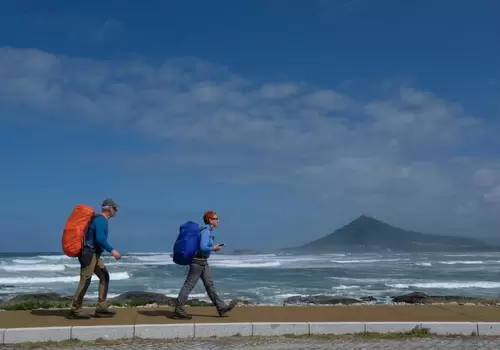 These are some of the best beaches in Caminha:
Moledo Beach
One of the most famous beaches in the region, it has an extensive sandy beach with a view of the island of Forte da Ínsua and the Galician hill of Santa Tecla.
The place is ideal for water sports such as surfing, windsurfing, kitesurfing, bodyboarding and stand up paddle.
Gelfa Beach
On Gelfa beach, the imposing Cão Fort stands out. But it is on the beach, surrounded by dunes protected by wooden walkways, where the magic happens. It is from there that you can contemplate the waves of the sea, which ride up to the rocky area. Also of note is the phenomenal view of the mountains, which allows you to capture magical late afternoons in your mind and on your camera.

Vila Praia de Ancora
Picturesque and full of small boats, Vila Praia de Âncora is a typical fishing village, full of history. The sandy beach of Vila Praia de Âncora stretches from the fishing port to the mouth of the river ncora.
The sea is calm due to the naturally created bay. It is a safe, clean beach with a Blue Flag and good surfing conditions.
With a well cared for environment, the beach of Vila Praia de Âncora also invites you to go for a two wheel drive or a walk along the coast.


And where to stay to enjoy the best beaches in Caminha?
With easy access and good connections by road and rail, the north coastline is very close to each other, also offering a quick connection with Spain, or with the large Portuguese cities such as Porto, Guimarães, Melgaço or Ponte de Lima.
The Hotel Meira, located in Vila Praia de ncora, is the ideal choice to enjoy a few days of rest. In addition to its unique location, 2 minutes walk from the beach, you can enjoy outdoor activities.

Hotel Meira has 52 fully equipped rooms with private bathroom, as well as a spa. Other advantages are the bar, the swimming pool and the private outdoor parking.. Therefore, it is ideal for a weekend getaway or a family outing. Book now your stay at Hotel Meira at the best price!