Surfing in Vila Praia de Ancora
The main reasons to surf in Vila Praia de Âncora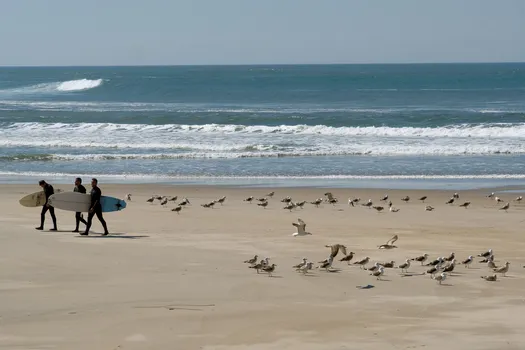 Ideal for water sports, Vila Praia de Âncora is also perfect for surfing. With a sandy beach that stretches from the fishing port to the mouth of the Âncora River, the beach is bathed by a strong Atlantic swell. Ready to surf in Vila Praia de Âncora?
The mild climate of Vila Praia de Ancora throughout the year, as well as a sea area with good waves, make it attractive for the many surfers who come to the fishing village every year. As such, the town is primed for surfers. So even those without equipment can rent a wetsuit and surfboard from one of the two surf schools in town.
Although the beach area is very busy in the summer, with the biggest influx of bathers in the area around Avenida Marginal, there are other areas that are perfect for surfing. The southern part of the beach, which is only accessible to pedestrians via the wooden walkways, is perfect for surfing, since it is an almost deserted area with good waves and beautiful views of unspoiled dunes and natural cliffs.
The beach at Vila Praia de Âncora usually has the right waves, which make an ideal spot for surfers, tending to be easy for those learning to surf. Along the beach, there are also several good beach breaks for more advanced surfers. Also in the surroundings of Vila Praia de Âncora there are other beaches with all kinds of waves, for all types of surfers, from beginners to more advanced surfers.
It is important to point out that the benefits of surfing for the body are innumerable: besides improving mental health, surfing works on spinal anxiety and posture, mastery of space in dynamic conditions, physical preparation and resilience to sustain muscle explosion needs; as well as rebalancing the body with the numerous salts and nutrients present in seawater.
Where to stay if you want to surf in Vila Praia de Ancora
The Hotel Meira, just 200 meters from Crianças beach, is the best option for those who want to visit and get to know Vila Praia de Âncora. Due to its proximity to the beach and local associations, it is also perfect for surfers looking for the village to develop their sports activities. The Hotel Meira has 52 rooms for all tastes, a spa, is suitable for bicycles and pets, being a modern and sustainable hotel.
At the SPA you can enjoy two massage rooms, sauna and turkish bath. In addition to the spa, the hotel has an outdoor pool, meeting room, event space, private parking and minibar. The reception is open 24 hours. The restaurant offers a menu of homemade snacks and buffet breakfast. It is also worth mentioning the existing tour packages from Porto by the Coast, or the Camino de Santiago Route. Book now your room at Hotel Meira, at the best price and get ready to experience the surf in Vila Praia de Âncora.