Spa treatments at MEIRASPA at Hotel Meira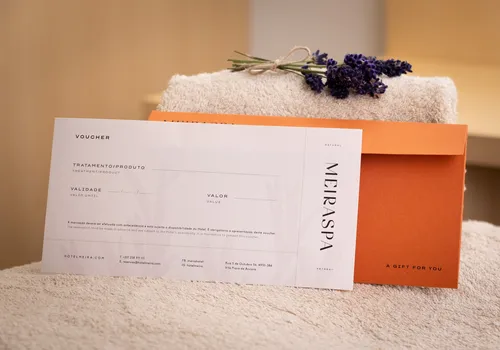 The best spa treatments in Meira SPA at Hotel Meira
A healthy mind in a healthy body, as the old adage goes. But there are maxims that really have to be taken seriously, especially these days, with the stress and dizzying days of everyday life. Therefore, taking care of the body is also taking care of our mental health, since it is really the brain that rules everything that we are.
Practising physical exercise, sunbathing or meditating are great initiatives to take care of ourselves. Still, there are other options, like spa treatments. At MEIRASPA at Hotel Meira, health comes first. That's why we have a wide range of spa treatments for you to enjoy.
The Turkish bath is a relaxation practice that consists of staying in an environment saturated with water vapour with 100% humidity and a temperature that ranges between 40 and 50 degrees. Among its main benefits, its role in the detoxification of the body and the reduction of fats and toxins stands out. In addition, this practice is indicated for those who suffer from skin allergies, lung problems, bronchitis and other respiratory problems. The reduction of muscle pain, as well as the prevention of skin aging are other benefits of this treatment.
If you prefer higher temperatures, MEIRASPA also has a Sauna. This wellness practice is also associated with better mental health. Likewise, ten minutes in the sauna have been shown to tone blood circulation and relieve heart problems, improve breathing and relieve some back pain, which is often caused by stress.
At MEIRASPA you will find the solution to physical pains, and you can always rest and relax. Before ending your vacation, say goodbye to contractures with a massage, in one of our two massage rooms.
Hotel Meira is a family hotel, located in the heart of Minho, in Vila Praia de Âncora. You can take advantage of the proximity to the Serra d'Arga, to enjoy the fauna and flora, as well as delight yourself with the local cuisine, marked by fresh fish from the fishing area. The beauty of the beach, with its dunes and inspiring views, is another highlight. If you are a water sports lover, the beach of Vila Praia de Âncora, five minutes away from Hotel Meira, invites you to an afternoon of surfing, kitesurfing or stand up paddle.
If you are traveling with your four-legged friend, you should know that the Hotel Meira is pet-friendly.
Come and visit or revisit one of the most picturesque villages in Portugal and stay in one of our rooms, which have been completely renovated, soundproofed and fully equipped with wi-fi, LCD TV, air conditioning, hair dryer and individual safe. 
In the morning, enjoy our buffet breakfast.
We are waiting for you at the Hotel Meira. Make your reservation now and enjoy the best spa treatments!