Nature activities in Caminha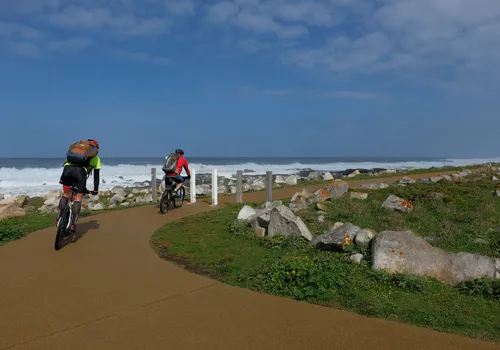 Nature activities in Caminha Region
The coastal area of ​​Minho is considered one of the most beautiful regions of Portugal. And it is not less. The characteristics of the fauna and flora of Caminha provide unique conditions, since it is possible, in a short geographical space, to find different landscapes, all equally beautiful and that invite you to carry out activities in nature in Caminha region.
The municipality of Caminha, framed in this part of the country, is an excellent example of landscape diversity, where green and blue tones stand out. The nature and leisure activities that can be done in the surroundings are countless , starting with the Camino de Santiago, an mandatory walk, especially considering the ease of connection with the Galician area and the short distance that separates the district of Viana do Castelo from the Spanish border. For pilgrims and not only for those who wish to undertake a different journey, there are two main routes available (Caminho do Interior and Caminho do Noroeste) and a maritime route.
For those who appreciate a good walk or a bike ride alongside relaxing landscapes, the eco-paths that fill Caminha are an excellent option. Between river, sea and countryside, there are several: the Ciclovia da Foz do Rio Ancora, the Ecopista Caminho das Camboas, the Ecovia Caminho do Sargaceiro, the Ecovia Caminho do Rio Minho or Ciclável de Santo Isidoro, among others. These are flat trails of between one and two kilometres, easy to walk and, of course, in communion with nature.
Another highlight of Caminha area is, of course, the Serra d'Arga. Imposing and true melting pot of natural and cultural characteristics, the mountain offers five short-distance walking trails, duly marked and signposted with international standards. Although they are all beautiful, we suggest the Camino Perna Alçada, from where you can admire the landscapes of Moledo beach and capture photographs that will remain in your memory.
The diversity of the municipality of Caminha also makes it possible to practice various sports in nature, like surfing on the beaches, canoeing on the Miño River, or mountain bike and jeep rides through the valleys and hills of Caminhenses, a region where sport and nature activities are really a way of life.
Book your stay at Hotel Meira
Ten minutes away from Caminha, Hotel Meira is the ideal option for those who want to enjoy the synergies with nature. Located in Vila Praia de Âncora, the location of this family hotel allows you to easily reach any point of the Viana district.
With added value that includes a varied buffet breakfast, the facility for those traveling with pets (pet-friendly hotel) and the comfort of a spa (perfect for recharging batteries at the end of a day of activities in nature), Hotel Meira also has a number of partners who can advise you on your tours. The hotel adopts planet-friendly practices and products, a perfect combination for guests who want to enjoy nature activities in the Caminha region.