Cycle tourism in Vila Praia de Âncora
2 interesting cycling routes in Vila Praia de Âncora
Cycling in Vila Praia de Âncora is an excellent activity to get to know the destination. Here we find different eco-routes and greenways, ideal for walking, breathing and connecting with nature.
Ecovia do Atlântico has pedestrian and cycling routes, made up of three routes with a reduced degree of difficulty so that they are accessible to all. On the other hand, Ciclovía offers several roads and itineraries with connection between different cities and towns, after the bike lanes of the municipality of Caminha and Vila Praia de Âncora, the Ecovia do Atlântico begins, which extends to Caminha.
The Ciclovía da Foz do Rio Âncora is a tribute to sargacero, dedicated to the sargassum collection  for medicinal use and fertilizer for agricultural fields. It was a traditional figure in the Moledo parish. Today, sustainability and appreciation of organic products make this route interesting, since sargaceros were the forerunners of organic farming.
This route can be a perfect getaway to get away from everyday life, practice sports, walk or ride a bicycle while contemplating nature. Also… Foz do Rio Âncora cycle path is one of the most beautiful cycling routes in Vila Praia de Âncora. It begins north of Vila Praia de Âncora and ends at Avenida de Santana, at the southern entrance to Moledo's population centre. It covers a total of 1,600 metres. It is an ecological route, along the Atlantic coast, passing through Alminhas, Mirador de Sino de Mouros, where you can take a break and watch the sunset overlooking Moledo beach.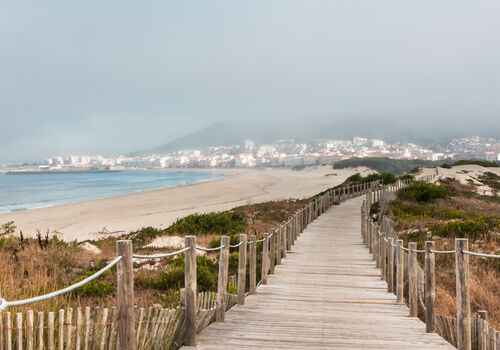 Hotel Meira: the best option to rest after a day of cycling in Praia de Âncora
Located in a privileged area in Vila Praia de Âncora, between the smell of the sea, waves, secluded beaches, walks through Serra d'Arga, the hustle and bustle of boats entering the seaport, the tranquillity, peace, nature, animals, Hotel Meira was built in 1935, today it represents the 4th generation of Meira's family.
Hotel Meira has 52 fully equipped rooms with a private bathroom, Meira Restaurant, Bar, Pool, MEIRASPA, Meeting Room, Space for Events and Private Parking. It offers various services such as a shuttle service to and from the airport, bicycle rental and an outdoor program.
MeiraSPA is a great option to relax your muscles after a day of exercise. You can rest and relax in the sauna, Turkish bath or request a massage. The products and ingredients used are made with natural ingredients such as algae to guarantee a multi-sensory journey of balance and well-being.
Make your reservation and discover the best cycling routes in Vila Praia de Âncora from Meira Hotel. Book your stay on our web. The best price, guaranteed!